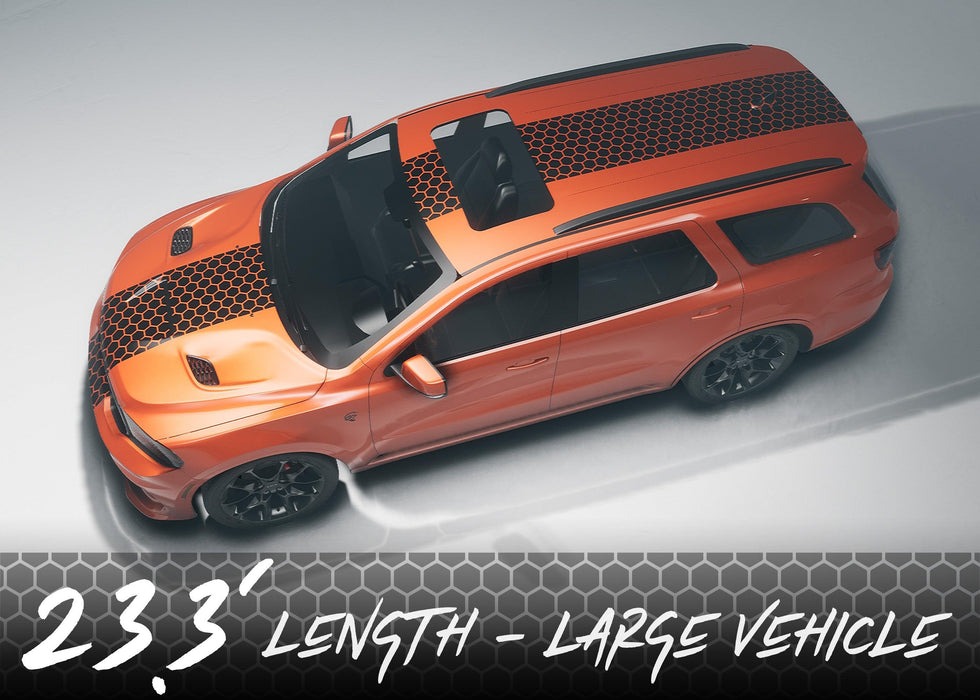 Large Vehicle Stripe Kit - Single 20" Honeycomb
Save

0

%
Save %
Original price
$318.45
-
Original price
$318.45
Looking to add a honeycomb stripe to your car?  Now you can with our easy DIY stripes that come computer cut and pre-masked for easy installation.  The stripe sections can easily be extended to any length by butting up the transfer paper on the stripe sections on the vehicle.

Kit includes:


(5) 20" x 56" ready to apply stripes
One install kit PER ORDER

3" mini medium stiffness squeegee
microfiber cloth
prep spray 
LUXE decal
plastic break away knife




 Basic Wet Apply & Tint - Oracal 651

Basic Vinyl - These vinyls are your standard wet application intermediate calendar vinyl.  They are the same crafting vinyls you'll find sellers on Etsy using.  They are the most economical option and do not stretch, which is why you won't find them on solid stripes or larger decals.  The transfer mask used with this vinyl is made of paper so it can be wet after the decal is applied to help release it from the vinyl once applied.


Basic Tint  - Our basic tints are the most optically clear and vibrant tints on the market.  They are polymeric calendar in construction, so they shrink very little over time.  Use these over bright colored vehicles for some crazy effects.  The transfer mask on these made of paper, so you can wet it to help release it from the vinyl once applied.

Reflective - Oralite 5600

Reflective materials are wet-apply and have an aggressive adhesive, so they resist pulling up very well.  The transfer mask on these made of paper, so you can wet it to help release it from the vinyl once applied.

Standard Vinyl-

These vinyls are air-release cast vinyls that you'll find used in top wrap shops worldwide.  These brands have a long track record of producing quality material that can be trusted to look amazing and last.  Most of our products are going to be either KPMF or 3M because we find their installability to be easy and consistent.  The transfer mask applied to these vinyls is specifically made for wrap vinyls and can be heated to accommodate moderate stretch.  Vvivid, TeckWrap, and other Chinese-made films are NOT top-tier and we will not make products with them.

Premium Vinyl - Textures, FX 

These vinyls are the same as brands as the standard vinyl category, so they have the same qualities as the standard tier with the added benefit of 3D textures and pearlescent effects.  We take consideration when using these materials to ensure the "grain" of the material makes sense when installed on the car.  Textured vinyls should not be seamed with an overlap and should be butt-seamed instead.  Decals may have overlaps in the design, so that it can be trimmed off for a perfect seam once applied to the car.